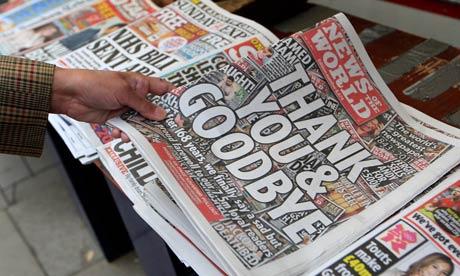 The News of the World's last issue, photo from guardian.co.uk
For a keen follower of media issues, the past month was a great time to be visiting the UK. In case you missed it, a huge scandal blew up over illegal practices at the News of the World newspaper, which itself turned into a scandal about the amount of influence News International (the paper's owners) had over the police and senior politicians. The result was what one respected media commentator described as a "
revolution
".
I won't recount the full story here as it is long enough to fill a book (
or two
), but I will try to cover the key points in brief before thinking about the story's implications for the Tanzania media. And if you want to understand it in more detail, I would strongly recommend
the (UK) Guardian's coverage
- it was their journalists who exposed most of this in the first place.